Molino (525 yds above sea level) once upon a time was a water mill, in which grain was ground to flour. The older part of the house was built around 400 years ago, the younger part 200 years ago. In 1950 the last leaseholders gave it up. They fled from poverty and hunger to the wealthier North.
In 1983 the roofs had caved in, the walls were partly broken down and the whole building was overgrown with blackberries, figs, ivy and wild wine. The bank of the Rio del Molino, which flows through the area and goes over numerous cascades down to the valley, was an impenetrable jungle.
After many years of renovation Molino came to new live and offers timely comfort. In 2001 half the house was remodelled into a Holiday Apartment. In two bedrooms (between 30 and 36 sq yds) 4 people easily find peace in single or double beds.
The bathroom (12 sq yds) has a shower, toilet and bidet and warm water from either a solar heater or a hot water tank.
The kitchen-living room (30 sq yds) is equipped with a gas stove and a electric oven, a dishwasher and a fridge.
Outside, on the adjoined terrace one can talk while playing games, or just simply relax in the sun or by candlelight in the evenings.
Molino lies in the middle of large oak forests, which are separated by fields and vineyards. The lawn around the house goes over a few terraces, with lots of sun and shadow underneath large trees.
10 min. by foot you can find two natural basins in the creek's valley (both are about 60 sq yds, and 10 ft deep) which are great for swimming.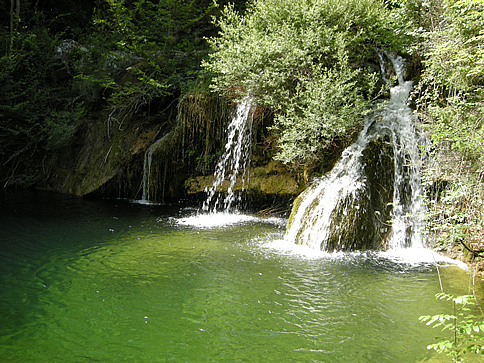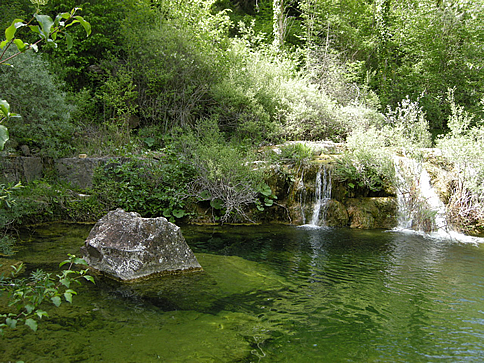 Molino is a green heaven without the noise and haste of modern cities, a place of peace. The romantic visitor will find peace and quite, the sporty visitor can explore the area either by bike or foot. Many marked hiking trails lead to the surrounding tvillages, where the Middle Ages seem to be still alive.
Click here, to find out more about the country, the people, the history and the traditional cooking. Pictures and Links to the surroundings you can view here.

More Information
Prices per week (Saturday to Saturday) :

April and May: 280 Euro/Week

June and July : 350 Euro/Week

August and Semtember: 350 Euro/Week

October: 2 80 Euro/Week


If You need a special agreement - feel free to send us a mail.

The price includes extra costs and final cleaning.

Sheets and towels are provided.
Not included: wood for the fireplace.


Pets are allowed, of course !
Contact and further Informations :